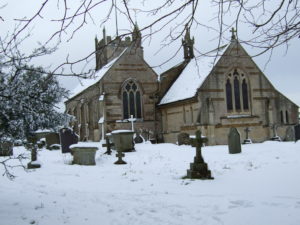 St Martin's Church, North Nibley
Welcome to St Martin's pages. Please free to come to the church at any time – you will be very welcome!
This page acts as our focus and summarises our events and activities, providing links to more details about them, about our church, our people and how to contact us.
Summary of Regular Services
Please check under 'Forthcoming Events' for any changes
First Sunday of each month
9.30am

Parish Eucharist – with choir

Second Sunday of each month
8am – Holy Communion (BCP)

9.30 am.

Family Service – often with guitar
Third Sunday of each month
9.30am Parish Eucharist with choir
Fourth Sunday of each month
9.30am

Family Communion with choir
Fifth Sunday (when there is one!)
8am – Holy Communion (BCP)

9.30 am.

Matins (BCP)

with choir
Forthcoming 'Events'
Sunday 10th November 2019: Remembrance Sunday. In the Church at 9.30am, moving to the war memorial for 10.45am
Sunday 1st December 2019 : Advent Carol Service in the church at 6pm, to be followed by refreshments.
Fri 6th /Sat 7th December 2019: Crib exhibition at the church – details to follow
Sun 8th December 2019: Our  family service will be led by Archdeacon Hilary and we particularly invite all those who are helping or enjoying the crib exhibition.
Monday 16th December 2019: Big House Nursery Nativity, 2.00pm in the church
Monday 16th December 2019: Oriana Concert, evening in the church – details to follow
Wednesday 18th December 2019: School Carol Service, 6.30pm in the church
Christmas Eve 2019 : Please join us on the  'Journey to Bethlehem'. We leave the church at 10am, heading for the chapel…
Christmas Eve 2019 : Christingle service, 6pm in the church
Sunday 3rd May 2020: Our 9.30 communion service will be led by Bishop Robert of Tewkesbury
About us
The Benefice
The parish of North Nibley is part of the Tyndale Benefice, which is currently seeking a new vicar. The Benefice Profile gives an overview of the churches, their aspirations and the environment in which they reside.
Churches Together
We work closely with the Chapel in the village, sharing services and other events throughout the year
Choir
We have a dedicated choir which sings at all the 9.30 communion services, as well as at 'special' services. It is always e keen to welcome  new members
Bells
The bellringers are looking for new ringers!
Village School
We have very close links with our village C of E primary school, which holds many services in the Church, as well as 'experience' events, supported by members of the congregation. We help with 'open the book' and hold joint fundraising events with the Friends of the school – FONNS.
We also work with the village nursery and playgroup.
Safeguarding
Please see our safeguarding page for more information and the policies page for formal documentation