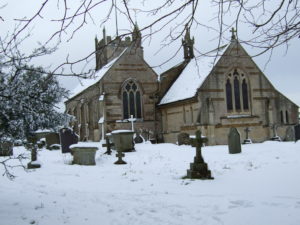 St Martin's Church, North Nibley
Welcome to St Martin's pages. This page acts as our focus and summarises our events and activities, providing links to more details about them, about our church, our people and how to contact us.
THE CHURCH IS RE-OPENING – ALBEIT GRADUALLY – SEE 'REGULAR SERVICES' BELOW
WEEKLY RECORDED SERVICES CONTINUE. These alternate between services with hymns and 'ramblings' with prayers. The churchyard remains open and provides a place for quiet reflection and prayer – with benches. Please do make use of it.
The latest changes to these pages:
*The next service in church will be on 4th July and the recorded service for 27th June, with music, led by Rev Peter Marsh, is now available on the blog post.
* There will be choral evensong at St Mary's in Wotton next Sunday (27th June) at 6pm
*  Please see details of how you may wish to give thanks for your vaccination by helping Christian Aid
There is a new BLOG / POST for each Sunday with some notices.